the polaroid above is me and my friends i went with. finally arrived home yesterday! it's been quite a trip, i am exhausted. haha. so here's some pictures from the adventures we had! we started off in Vegas, and on the first day we drove 6 hours (each way) to Arizona to see the Grand Canyon! it was amazing! there was so much we did on our trip: ate so much food, met up with random friends, many nights of drinking, too much shopping, dancing at a funk club, visit a local art exhibition, ikea!, cute tea shops, little tokyo in LA, and to top it all off: on our last night in california, while Shaina + Mitchell (friends above) went to the Beyonce concert, my friend in LA (his name is Anthony) had a extra ticket to the Incubus concert!! so i went with him and his friends, such a huge coincidence because i am a HUGE incubus fan!! it was perfect.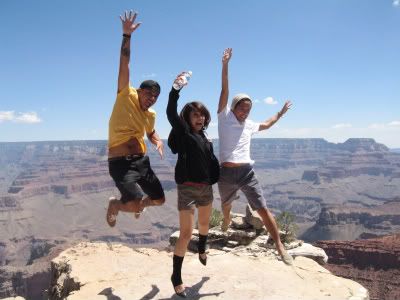 it was a very fun trip with my friends, but it was a bit long. i have to admit i am happy to be home again. hehe. i bought some great things when i was there! apart from clothing, me and my friends went to IKEA for the first time...it was so great! surprisingly very huge store. i bought a couple things for my room, it's so cheap there! i also bought a couple of Japanese goodies when we went to this big department store in Orange County. i think it's called Mitsuwa. well i got some magazines, but the best thing was the new Miyazaki dvd: it's called
Ponyo on the cliff by the sea
. it is now my favourite Ghibli film! so much magic and cuteness. they also had THE BEST teriyaki grilled corn! i really loved it.
hope you all enjoy my pictures from the trip. great summer to remember :-)