Our new kitty. his name is Tanko (tonko)! he is about 5 months old now and is a Siamese mix. his eyes are a bright ice-blue!  he's so lovable and goes out of his way to cuddle and sleep on you. complete opposite from our other cat Mimi. she's very independent and minds her own, but she's great for giving hugs!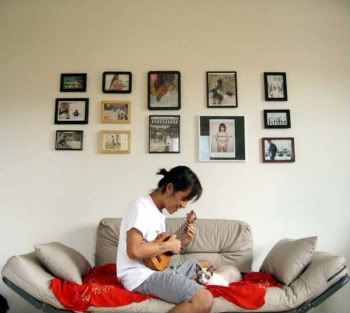 thats my friend, Shaina, and me. just relaxing, chatting, and eating in my room on a lazy saturday morning. i remember it was actually my birthday this day :-)
One day i was talking to her on the phone and telling her this very elaborate story of strangers i was observing one day on the bus. after my entire story, she just said one sentence to me that everything much clearer:
"strange people tend to find one another."
that's all it took to make me smile.
i spent one and a half hours this morning painting. it was great.